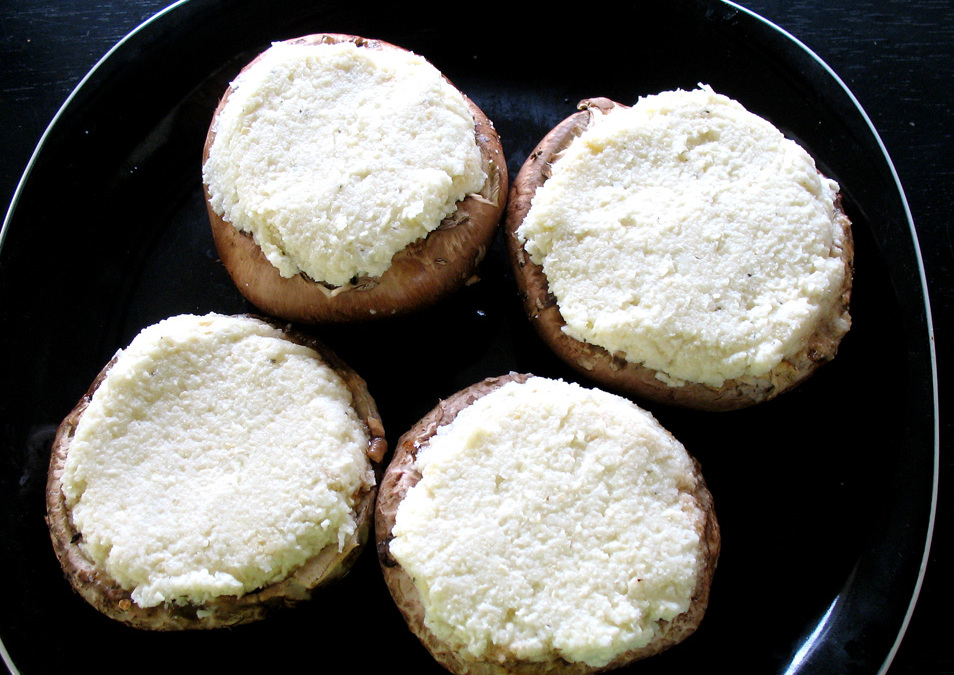 These Cheese Stuffed Portobello Mushrooms are tasty, fun, savory and delicious! Excellent for parties. With just a few ingredients, they're raw vegan, all natural, super low fat but have lots of vitamins & fiber!
Smaller mushrooms will work well too, like baby Portobellos, especially if regular Portobellos are too tall for your dehydrator and may not fit between the trays.
You can choose to do 1 small/medium Cauliflower with 1 Zucchini which makes a slightly sweeter Cheese and quicker drying time! But will be light green unless you peel the zucchini 🙂 For more healthy Vegan Recipes please see Aloha.com
White Cheese Portobellos
2014-11-20 21:16:38
Serves 4
Fun savory raw vegan White Cheese stuffed Portobello Mushrooms
Ingredients
4 Portobello Mushrooms (stems chopped off, keep the gills)
1 Cauliflower (mostly florets)
1 Zucchini (optional)
1 C soaked raw unsalted Cashews (soaked 1/2 hour - 1 hour)
1 TB Nutrional Yeast (optional)
Sprinkle dried Thyme
Juice from 1 Lemon
2 Cloves Garlic
Sea Salt to Taste
3-4 TB Balsamic dressing (or mix of Balsamic vinegar & oil)
Squirt of your favorite sweetener
Instructions
Cut florets off Cauliflower (try to use mostly the top and not much of the stems)
De-stem Portobellos
Drizzle Balsamic dressing lightly into mushroom caps
Peel Zucchini (if you're using one & you want a whiter cheese)
Peel Garlic cloves
Combine all ingredients in food processor, blend until smooth
Taste & add more salt or sweetener if desired
Gently scoop a few TB of White Cheese into Portobello Caps
Place in dehydrator (if they're too tall, you may have to carefully slice bottoms off)
Dehydrate 4-6 hours at 118F until they're soft and they look "cooked"
Serve warm
Notes
If you use a Zucchini they cheese may be sweeter and cook faster. These are tasty and elegant and wonderful as hors d'oeuvres, or as an addition to the main meal. Fabulous for a dinner party or to share with friends!
Best Beauty Foods http://www.bestbeautyfoods.com/